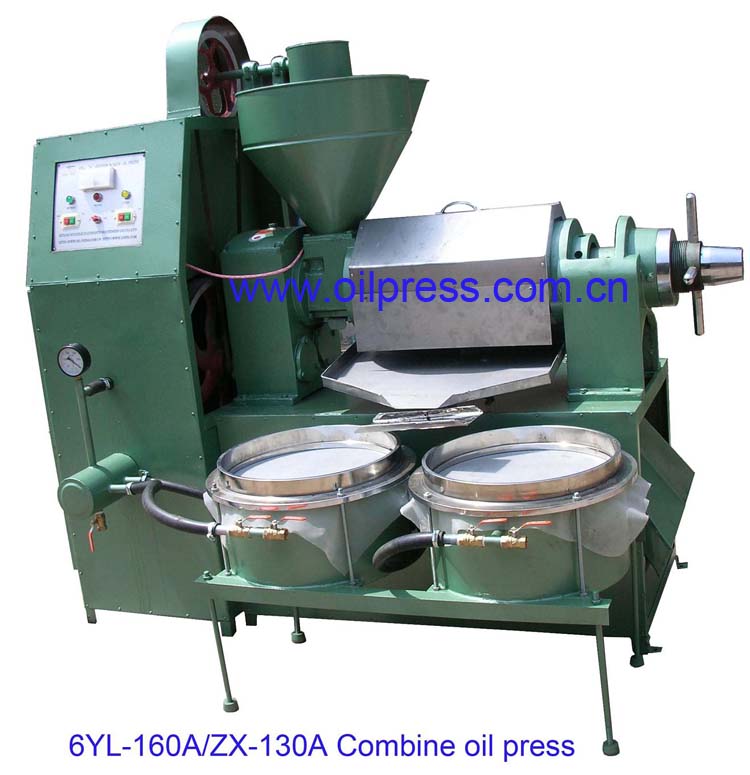 It's one small oil mill, which could extract vegetable oil from more oilseeds, such as soybean, rapeseeds, peanut, coconut, sesame, etc.
And now it is used for biodiesel oil machine in Europe and North America.
It has multiple functions, including to:
1. Electrical element for heating chamber
2. Vacuum filter for clearing oil.
4. All working process are controlled by the power box.
Automatically control the filtering oil, it could automatically exchanging the drums one by one; If one drum is full it would change the other drum and automatically put out the oil out of the drum. Matching the heating system for automatically heating the chamber for the temperature required as its normal working.
Before pressing, some parts of the press such as the press chamber, press screw and press ring will be pre-heated.
Only one machine the user could get the better edible oil. Also is with the simple operation and maintance!

MODEL 6YL-160A /ZX-130A
MAIN DATA
Capacity 500kg/h for oilseeds;
Power 15kw+1. 5kw;
Weight 1500kg;
Size 2300*1920*2150 mm

MODEL 6YL-180A /ZX-160A
MAIN DATA
Capacity 700-800kg/h for oilseeds;
Power 18.5kw+2.2kw;
Weight 1900kg;
Size 2350*2030*2150 mm
Note: The other data
Residue oil of cake <7%;
Operator: One;
Rate of output oil: 35-50% (for peanut/rapeseeds)